What our clients are saying....
Do YOU have a success story to share? Use the form on this page to send us your comments.
---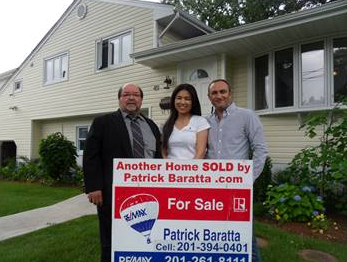 We want to thank Patrick Baratta for selling our home in less than two weeks for 99.6% of our asking price and the experience was amazing. Patrick educated us of the market conditions with great detail and displayed his marketing plan and the systems he has in place with proof. Patrick made us feel comfortable and he was not pushy. Patrick displayed our home online with amazing results. He photographed our home several times during the week to make sure the pictures were perfect online. The ad copy described our home to perfection and we priced the home correctly. We had so many families coming through our home in February we could not believe it. Patrick gave us feedback the next day from each family that came through. Patrick Baratta sold our home with multiple offers during the first week and he handled it perfectly not to scare anyone away. Patrick explained the offers in detail and (we) choose the best-qualified offer. Patrick was on top of everything from beginning to end. We are very happy with Patrick's knowledge, performance, marketing and negotiating skills that he brings to the table compared to the two other brokers we interviewed. The experience was first class from take-off to closing and he is worth everything to us. We are very proud to recommend Patrick Baratta as your Realtor, a true professional. Thank you.
Eddie and Yumiko
---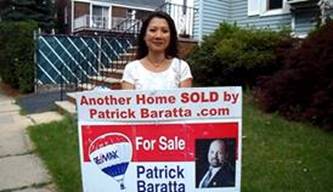 Hi! I would like to let you know that Patrick Baratta came highly recommended to us by one of my girlfriends. It was the best decision that we made when hiring Patrick. My house was listed with another broker for two years and it was a just an awful experience. My former agent never returned my phone calls, emails, and texts. she did not follow up with me. We only had one open house the entire two years, and she only posted 6 amateur photos, it was just and awful experience. But when we met Patrick it was a whole different story. Patrick works very diligently from early morning until late at night. He picked up the phone the first time I called him. Patrick returns all of my emails, texts promptly and keeps me up to date. Patrick's marketing presentation is very impressive, educational and compelling. Patrick gave us a lot of really good advice on pricing our home correctly and how to get our home ready for the open house and for buyers to preview. Patrick spent an entire day preparing our home for the photographs and getting the best angle and best lighting for our house. The first week we had multiple offers and he sold it for way above asking price. $11,000 That was Great! We love Patrick so much, he has been the best thing for us and we are going to have him help us find our new dream home. We highly recommend Patrick Baratta for his honesty, integrity, professionalism and the strength of his marketing plan. We will always be grateful and we will never forget how secure Patrick made us feel. Thank you
Cindy and Family
---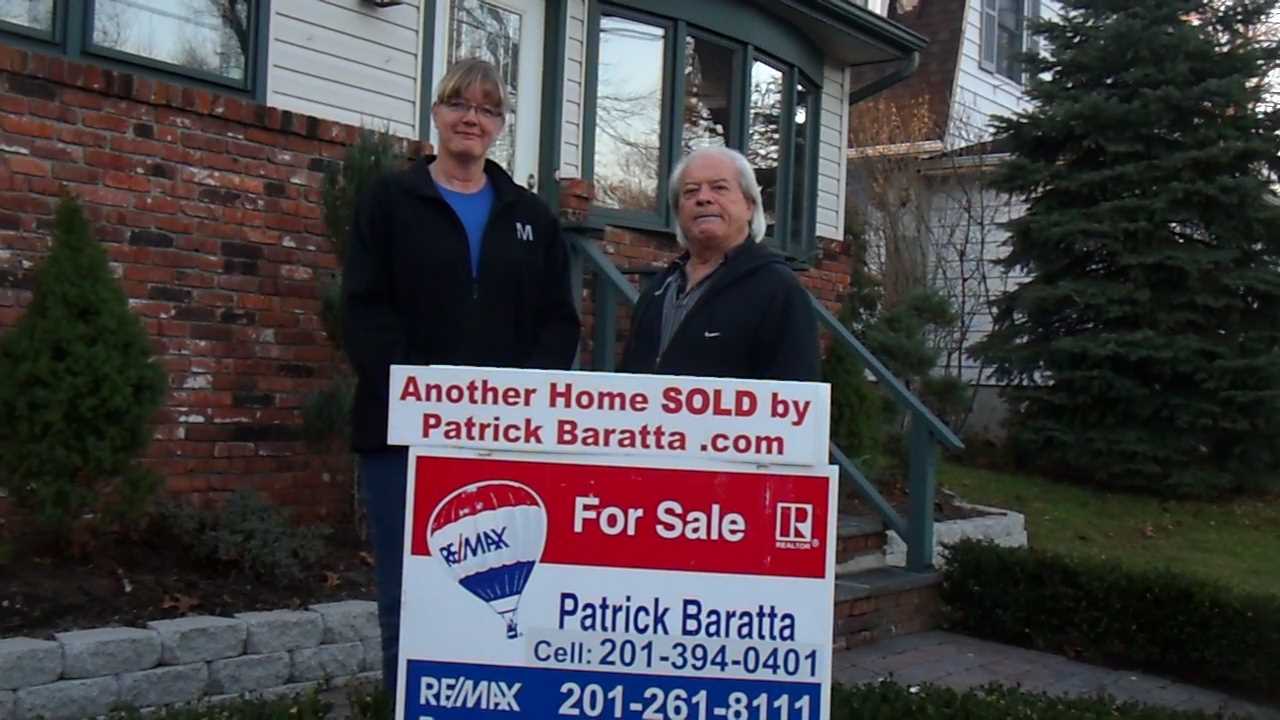 We want to thank you, Patrick Baratta, for all your hard work and efforts in selling our home in 2 weeks and negotiating the full price for us. We called Patrick Baratta after our home expired with another broker. Patrick displayed his unique marketing plan and we were very impressed with the advertising systems he has in place. He gave us 2 weeks before the "market" slows down due to the holidays, but that's all we needed. Our first showing are the people that put in an offer and bought our house. If you want your home sold "Fast" like our home did. Then call Patrick Baratta. He is very professional. He has great integrity, He works fast and he answered all of our calls and the pictures is what got our buyers attention. He did a phenomenal job. He is right on the job every minute of the day. I have nothing but praise for Patrick Baratta he sold our house in 2 weeks at full price. Thank you very much. We appreciate it.
Everdina and Tony
---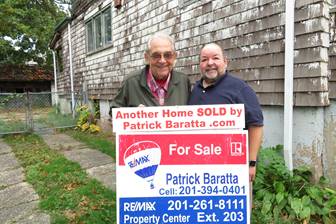 This is a thank special thank you to my estate planner Mark Charnet for referring me to Patrick Baratta. Patrick worked through a lot of difficulties with my sister's home that has been in much of need of help and getting this place cleaned out and brought to market. Patrick coordinated with local charities and a clean-out company to dispose of years of undesirable items since I lived out of the area. Patrick has worked through a lot of offers that have been difficult and he has managed to take an secure the full price offer that we were asking for. Patrick was very patient and answered all my endless questions whenever we spoke especially when dealing with nursing home administrators and my attorney. Patrick has done an excellent job that is beyond belief. I have to tell you he made it seem real simple and easy. Thank you very much.
Robert
---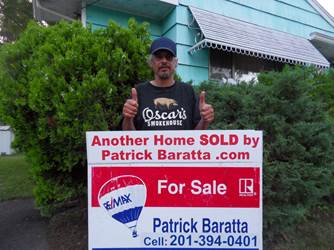 I found Patrick Baratta on the internet back in May and we needed to sell this home fast to settle an estate. We were pressed for time and we just wanted it sold. The home was in original condition and was packed with years of unwanted items. We were only concerned about our home selling quickly. Patrick advised us of the fair market value and his exclusive quick-sale marketing system and buyer recruitment programs he has in place. We received multiple offers and Patrick sold our home for 109.1% over the asking price. He also negotiated for the buyers to take all the unwanted items with the sale. I was in no position to clean out the home living out of state. A few short weeks later, the home sold and we were done. We cannot thank Patrick enough for his honesty, integrity, support and guidance. Patrick Baratta sold our home quickly. He did a great job, I appreciate all his efforts, and you will too.
Tom
---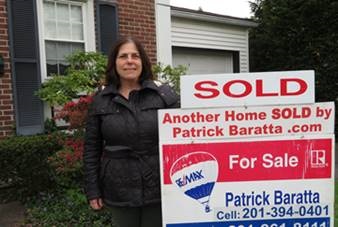 My mother had passed away several months ago and I was the executrix to settling her estate. My parents had lived in the house for nearly fifty years and accumulated a lifetime of memories and material things. In addition, I had never owned or sold a home of my own. I really didn't know how to begin the process of emptying out the house and then preparing it for sale. After interviewing several realtors I met with Patrick Baratta and he immediately put my mind at ease.  He was very respectful of the fact that this would be an emotional process for me and spent a great deal of time explaining the process of preparing a home for sale. Patrick recommended several charities to pick up the unwanted household belongings and some minor repairs that would be necessary to pass the home inspections.  He was "on point" and the home inspection went smoothly. Patrick was encouraging yet truthful, honest and realistic when pricing the house.   As a result I received a full price offer only eleven days after putting the house on the market. Patrick was quick to respond to my calls and concerns and made me feel like I was his number one client from start to finish. I would highly recommend Patrick Baratta to anyone who is in need of selling their home and his expertise and his personality proved invaluable in this process.  Patrick went above and beyond my expectations during this trying time in my life. Contact him and you will see what I mean. Thank you Patrick you are a true professional.
Valerie Grammar School Social Worker
---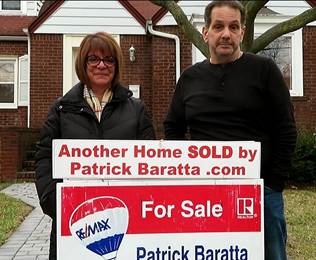 Hi! We met Pat online and we hired him to put our house up for sale. Low and behold he did that on a Thursday and within a week the house had many offers. We were very surprised! I would recommend him very highly. If you are looking to sell a house, If you are looking buy a house, he is very upfront and honest! Out of one to ten I would give him a ten plus. My suggestion is to give him a call and I am sure he will do right by you the same way he's done right by us.
Joe and Luann
---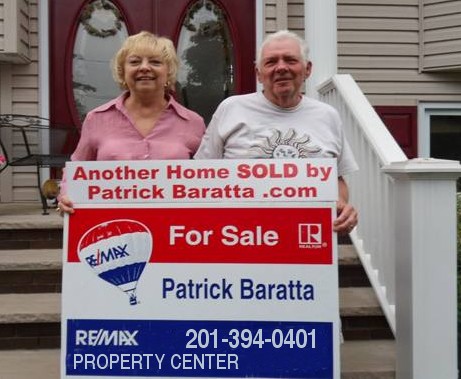 It is not every day that you meet someone as honest and genuine as Patrick Baratta in any aspect of life. In addition, to encounter someone so helpful and caring in business is almost unheard of. Patrick always made himself available whenever I needed him to open the door for the local charities when cleaning out my parents' home. Patrick sold our home in 30 days and we received multiple offers. Patrick went out of his way to explain all of our options and we are very fortunate to have found him. We are beyond grateful for how trustworthy he is and hope to be fortunate enough to do business with him again.
Edwin and Paulette
---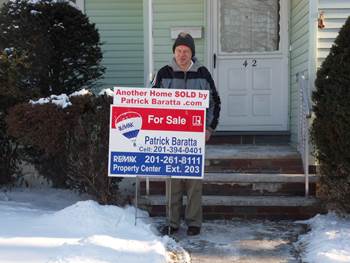 I want to thank my financial advisor Mark Charnet for recommending Patrick Baratta to me to sell my home in Haledon. Patrick helped me find a plumber, painter, and handyman to clean out my place and freshly paint my entire home as well as getting it ready for sale. With Patrick's advice and suggestions, my home sold in 40 days in the middle of the winter with multiple offers and getting me $14,000 over asking price. Thank you, Patrick, for helping me with the purchase of my new condo and being attentive to all my concerns. I cannot express my gratitude enough for all your expertise in coordinating both transactions and acting as my liaison between all the contractors to my benefit and being present after closing when the movers delivered my furnishings to my new condo. Thank you again for taking charge and the time to explain everything to me from the start. I could not have done it without you.
Robert

* Have Testimonial on Video
Hi my name is Patty, I am here to talk to you about my Realtor Patrick Baratta. Patrick was referred to me by a friend who was very pleased with his services. Patrick came over to my house and did a thorough inspection. And looked in every area of the house and said this needed to be fixed, changed and decluttered and painted. He told me all the things that I had to do. So initially I had a bit of resistance to doing that but we did it all. We finished all the work and i went on the market in April and within a few days I had multiple offers and I received well over my asking price. So I am really happy about that. When the home inspection report came back, there were only six very small items that needed to be changed. So he really did his work. I am very pleased with all that. I would highly recommend Patrick for all your Realtor needs and he is a great guy, He is very conscientious He is very knowledgeable and really knows his business for sure. I would Highly Recommend Him. Thank you so much. Patty Professional Musician
To Whom it May Concern;

I am eager to share with you my experience working with Patrick Baratta on the sale of my mother-in-law's home in Paramus, NJ.  From the start, Patrick was very organized and methodical in his approach to selling the house and the full services he provides.  He had a complete database that he had compiled that included prospective buyers and their desires for a home.  He was able to use that information to target a specific market based on what my house had to offer.  While Patrick was completely professional and friendly, he was also extremely responsive!  Living in Pennsylvania, Patrick would text me with updates at various times of the day and week, He is really on top of his game and the results speak for themselves.

I believe one of Patrick's strengths is his valuing of the home at the price that the market will bear.  I might have wanted to list the house at a higher price, but his knowledge and experience of the area and the buyers resulted in a realistic price that allowed for much more visibility.  From the start, there were interested parties.  If the house had been over-priced, I believe we would not have gotten as much action due to the home being in original condition.  His valuation of the house was right on the mark!

The outcome of the sales process on this deal was an offer that exceeded the asking price by $10,000, and a closed deal within four months.  A reason for the length of time was an in-ground oil tank that supplied heating oil to an operating furnace, which had to be removed and the soil remediated.  Patrick softened that entire experience by recommending the company to do the tank removal and even overseeing the work at the house.  I couldn't have asked for a more attentive real estate professional! I highly recommend Patrick Baratta!  He is a gem!  And, if I had to buy or sell a house again, I would engage Patrick without hesitation. 

Patrick, thank you for making this an enjoyable experience!  I'm so happy that I selected you to represent us.  Thank you and I wish you continued success and the very best.

Sincerely, Judy
---